Saturday & Sunday,
February 25 – 26, 2023
2-Day Event—Rain or Shine
Amateur chefs will compete on Saturday, followed by professional chefs on Sunday.
Join the delicious festivities as amateur and professional chefs prepare their finest clam chowder recipes along the Boardwalk.
Teams compete in the friendly competition, hoping to win prizes and bragging rights for BEST CLAM CHOWDER in the country's largest and longest-running clam chowder competition!
Try Some Clam Chowder!
The Boardwalk admission is free! Just purchase a Tasting Kit to sample the clammy concoctions.
Tasting Kits are $12 and include 6 taste tickets, spoon, cup, and a People's Choice ballot.
Come Early! Supplies are limited.
100% of Tasting Kit sales benefit Santa Cruz Parks & Recreation.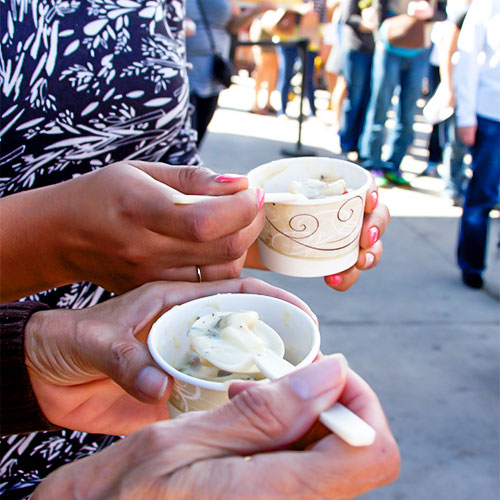 Enter a Team!
The competition features four categories.
Competing Saturday
Amateur Boston
Amateur Manhattan
Competing Sunday
Professional Boston
Professional Manhattan
Early Bird Registration: Fri., Feb. 4, 2022
Includes: 2 Rides Wristbands and 2 team T-shirts
Final Deadline: Fri., February 11, 2022
Awards will be given for Best Clam Chowder in each category, plus People's Choice, Most Tasted, and Best Theme.
Awards include plaques, cash prizes and bragging rights!
For more information please contact the Chowder Committee: (831) 420-5273.
Cook-Off Schedule
Saturday, February 26, 2022 • Amateur Teams
10am Tasting Kits go on sale
10am-11am Preparation period (no heat)
11am-1pm Cooking period
1pm Public tasting begins
4pm Amateur Division winners announced at the Neptune's Stage (near Pirate Ship)
Sunday, February 27, 2022 • Professional Teams
10am Tasting Kits go on sale
10am-11am Preparation period (no heat)
11am-1pm Cooking period
1pm Public tasting begins
4pm Professional Division winners announced at the Neptunes' Stage (near Pirate Ship)
Amateur

Competition Results – Saturday, February 26, 2022
Best Boston
Rocky Horror Clam Show, Jill Goodwin
Yogi's Island Ways, Joel Leonin
Santa Cruz Clammunity Credit Union, Ed Cross
Best Manhattan
DragonMama's Portuguese Red, Michele Hartmangruber
Santa Cruz Clammunity Credit Union, Ed Cross
4 Men & A Clam, Wayne Locke
People's Choice Winners
Boston
Rocky Horror Clam Show, Jill Goodwin
People's Choice Winners
Manhattan
4 Men & A Clam, Wayne Locke
Most Tasted
4 Men & A Clam, Wayne Locke
Rocky Horror Clam Show, Jill Goodwin
Silence of the Clams, Brian Edwards
Best Booth Theming
Silence of the Clams, Brian Edwards
Muschel Men, Eric Forsberg
4 Men & A Clam, Wayne Locke
Professional

Competition Results – Sunday, February 27, 2022
Best Boston
Clamdestine, Andrew Lott
East Side Eatery, Derek Rupp
Ideal Bar & Grill
Best Manhattan
Midgley's Public House, Michael Midgley Jr.
East Side Eatery, Derek Rupp
People's Choice Winner (Professional)
Boston
People's Choice Winners (Professional)
Manhattan
East Side Eatery, Derek Rupp
Most Tasted
Latin Asian Fusion Kitchen, Roddy Diaz
Ideal Bar & Grill
The Harbor Restaurant- Santa Barbara, Marcelo Valdez
Best Booth Theming
Jack O'Neill Restaurant & Lounge, Gus Trejo
California Inspirations, Margie Galvan
Coasties Clam Chowder, Kendra Garza
Thank You to our Clam Chowder
Cook-Off Sponsors